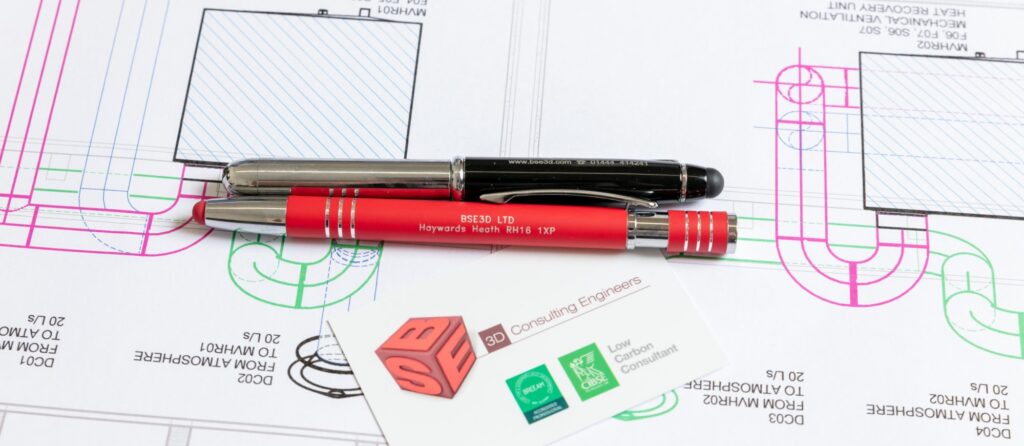 BSE 3D is a team of energy efficiency consultants thinking ahead of the legislation. We are committed to helping our clients improve the sustainability of their businesses. As experts in understanding how to make effective approaches, we help clients that not only reduce their carbon footprint, but save them money too.
We realise that the construction industry has a responsibility to produce designs for the world of tomorrow – and we take that very seriously. Our team are qualified Low Carbon consultants.
Energy Consultancy: Design
BSE 3D energy consultants work closely with our design team members to create low energy, high performance buildings and systems. We take a holistic approach to help meet regulatory approval and go beyond regulations based on client aspirations and financial viabilities, to reduce carbon emissions and running costs. Our consultants are experts in:
Passive design strategies
Full analysis of building envelopes including solar, thermal and light performance
Low and zero carbon technologies full design and integration to building systems including CHP, TriGen, Heat pumps(ground/water/air), Geothermal Energy, Solar energy technologies, Wind energy, Hydro, Biomass and Biofuel energy and energy from waste
Our team are experts in carrying out full feasibility studies for renewable technologies integration for each specific building; this is required by most planning authorities to obtain planning permission. Our team has prepared energy strategies and energy statements to obtain planning permission from GLA and other authorities for different buildings.
BSE 3D offers a complete service from feasibility study to design, installation and commissioning. Additionally, our energy consultants conduct Part L analysis and calculations for new builds and refurbishments, as well as being low carbon consultants.
The number of legislations on low energy design and operation, and sustainability is increasing every day. BSE 3D offers a full and comprehensive range of compliance services to help clients to manage specific regulatory responsibilities. Our team can help in following areas:
Air Conditioning Inspections
Carbon Reduction Commitment (CRC)
We have fully accredited CIBSE low carbon energy assessors (DEC and EPC up to level 5) and fully accredited air conditioning inspectors. Our team has expertise in dealing with CRC strategies and have been involved in helping a few companies in their CRC plans and strategies.
Sustainability Consultancy
Our team has expertise in sustainability consultancy including advice for water conservation and recycling, waste management, environmentally friendly materials, commissioning, sustainable construction, occupant health and comfort and energy.
We have LEED accredited professionals who can help the clients in the design process to achieve LEED certification. Our sustainability team also has BREEAM Commercial and bespoke assessors, who can help the clients to achieve the BREEAM rating they are aiming for. Moreover, our sustainability team can assist in designing residential buildings to different levels of Code for Sustainable Home (CSH).
BSE 3D recognises the need to develop energy sources and consumption practices that rely less on finite resources and do not contribute to climate change.
We have researched and developed a sustainable approach to energy use in buildings at the design stage, and use real time simulation to calculate the energy consumption before the building is built. We continue to monitor and improve the systems for our clients throughout the life cycle of the building
Our dedicated teams work with our clients to develop corporate social responsibility policies and documents. Implementation saves energy and improves the supply chain with more sustainable materials and working practices. In addition, our survey teams are able to inspect, test and advise on the performance of building services systems, such as air conditioning, heating and electrical distribution systems.
BSE 3D has worked with BioRegional Quintain and advised on sustainable supply options for a large development in Bognor Regis (Eco quarter regeneration scheme). We conducted a peer review and calculations to ensure compliance with government policies.
BSE 3D engineers have designed large and small scale combined heat and power plants using fossil fuels and renewable resources. Our carbon management strategies and innovative techniques have led to smart electrical energy systems and seamless control.
Contact Us
With offices in London, Sussex and Ireland, BSE 3D are able to operate throughout the UK. Get in touch with us today for more information.
Recent Projects