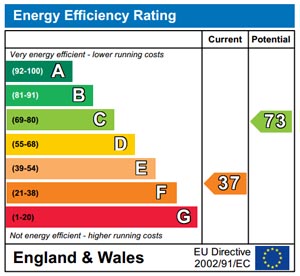 An Energy Performance Certificate (EPC) is required by law when a building is built, sold or put up for rent. An EPC assesses a building by giving it a standard energy and carbon emission efficiency grade from 'A' to 'G', where 'A' is the best and with the average to date being D/E.
If you are a landlord or homeowner looking to sell, rent or lease a property, you will need to provide an Energy Performance Certificate (EPC), which will need to be completed by an accredited energy assessor. They will carry out the assessment and produce the certificate, which will be valid for 10 years. We have experienced assessors who operate across the southeast to provide you with a friendly and professional service.
An EPC is an important document, providing tenants and prospective buyers with a clear overview of the property's energy performance rating and its environmental impact, and it can be used to identify whether measures are needed to reduce its CO2 output. EPCs provide you with information about how to make your property more energy efficient and reduce carbon emissions – to see an example of an Energy Performance Certificate, click here.
Types of EPCs
 There are different EPCs BSE 3D can carry out on your property, depending on the type of property it is. We provide a range of EPC services to meet these requirements:
Domestic EPCs
 If you own a property that you plan to sell or rent out on the residential property market, you're obliged to provide potential buyers and tenants with a domestic EPC. We have extensive experience in carrying out these assessments and we can provide you with a professional and thorough service that's quick and easy to arrange.
Commercial EPCs
If you're selling or leasing a commercial property, you have to present an EPC or you're at risk of a penalty of 12.5% of the property value or £750. Commercial EPCs include a recommendation report which suggests improvements that can be made to improve the energy efficiency of the property. If the property is a new build, you'll require a separate EPC called an On Construction certificate. This needs to be arranged by the individual managing the Building Regulations of the property.
SAP EPCs
SAP EPCs are just for new build properties, buildings that have been recently converted or those which have increased the number of dwellings they contain. Site visits aren't required for SAP EPCs – we can complete these for you remotely using software which generates a Predicted Energy Assessment and a full SAP EPC.
Once completed, SAP EPCs are valid for 10 years and can serve as a standard EPC for future property transactions, so you'll have no issues selling, renting or leasing your property should you choose to do so.
When is an EPC required?
 In most cases, you'll need to present a valid EPC when you're selling or renting out a property. Here is an overview of the requirements for each scenario:
Selling a property
If you're selling a property, you're legally required to have ordered or be in possession of a valid EPC when the property goes on the market. Your estate agent has up to 28 days after the sale commencement date to upload the EPC. There's no minimum EPC rating for selling a property, but the document is still legally required for the transaction, whatever the circumstances surrounding the sale.
Renting a property
If you have plans to rent out your property, you'll need to secure an EPC before your tenants come to view the property. Landlords are responsible for making sure the EPC rating of the property doesn't fall below 'E', unless there are valid exemptions. If your property does not comply with this ruling, you could be issued a Publication Penalty and fined up to £2,000.
If the property in question is newly built, has recently been converted or has increased the number of dwellings, you'll need to present an SAP EPC.
Exemptions to EPCs
There are some types of property which are exempt from requiring an EPC:
Places of worship
Buildings about to be demolished
Temporary buildings in use for fewer than 2 years
Detached commercial properties with a maximum floor area of 50m2
Industrial sites, workshops and agricultural buildings with low energy usage
 
Contact Us
We are fully accredited to provide our clients with EPC assessments on any type of building. With offices in London, Sussex and Ireland, BSE 3D are able to operate throughout the UK. Get in touch with us today for more information on how we can help you with your energy performance certificates or to find out more about the other services that we offer.
Recent Projects