By Harriet Morphew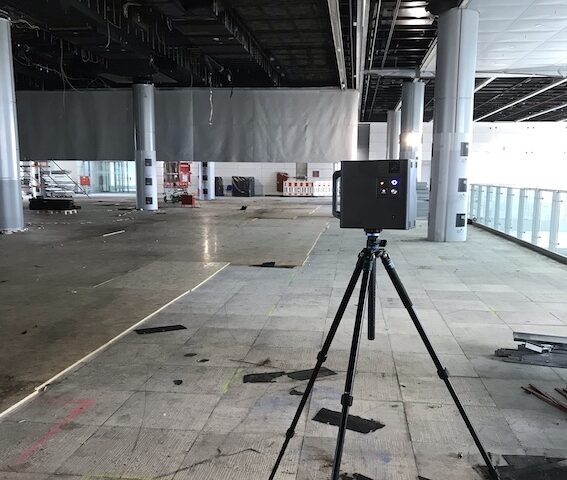 Some of the BSE 3D team are currently on site in Frankfurt, Germany surveying and 3D scanning an existing, nine storey office building that is undergoing an extensive refurbishment.
With the ceilings down, so all services are accessible to our team and 3D scanner, we are completing the survey and scans before moving on to create 3D models. Using data captured during the 3D scan and extra information gathered during the survey, 3D models will be created to help coordinate new and retained services in the ceiling void.
Working closely with our client, and the various trades on site, we have been able to make good progress to date with approximately 70% of the building having been scanned and surveyed.
Following the scan and survey works, we will be progressing on to the working drawings package. This package of works will require close coordination of the retained and new services, for all consultants involved. Previous experience has shown how useful the 3D scans currently being captured can be, as they reduce the requirement and frequency of needing to attend site to check and verify locations and dimensions of services and the structure.
To find out what other services we offer, please visit our services page.
Talk to Our Expert Team
If you would like to learn more about the range of services we offer, please get in touch for an informal discussion about your needs and requirements.