Epping Wellness Centre Site Progress
By Harriet Morphew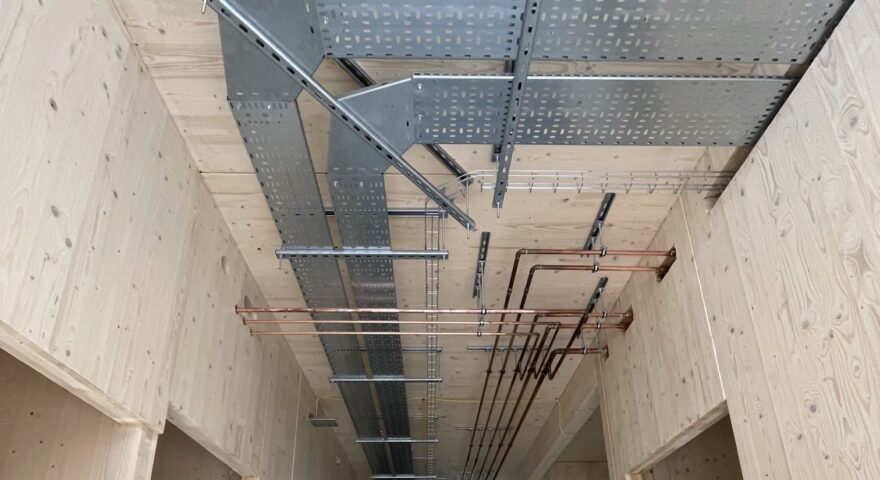 Great to see how Epping Wellness Centre is progressing on site during a visit last week. BSE3D carried out the MEP design for this new sports and wellness centre in Epping. The project utilises air source heat pumps for comfort heating and cooling with MVHR in the gym and fitness suite. The sports hall will have underfloor heating and natural ventilation via wind turrets.
The challenge on this project during the design was having to design builders work hole locations early on in the project. As the structure is CLT (cross-laminated timber), the impact of the builders work holes has to be calculated before they are cut. This means the holes need to be agreed before the CLT panels are manufactured.
Using Revit as a 3D modelling tool, the design was carefully coordinated with the structure to ensure all builders work holes were in the correct location. Additionally, there are material savings by accurately sizing and locating the holes for the services passing through them. Larger, rectangular holes for services that are not yet coordinated or considered require bigger beam sizes to compensate. Therefore more timber for the CLT structure is required as well as more fire stopping material after the services installation. The result of accurately sized holes is a more efficient use of materials, and therefore a more sustainable construction.
Talk to Our Expert Team
If you would like to learn more about the range of services we offer, please get in touch for an informal discussion about your needs and requirements.